Ministries
KIDZ KLUB *New* Activities For Children
---
Children are our greatest treasure! This is a children's ministry with a vision to connect Jesus to the Kids and the kids to Jesus. Boys and Girls are presented with a great program where we bring our children into an experiential relationship with their heavenly Father through - devotions, games, story telling, puppetry, craft and more. _____________________________________________________________________________
Hi Parents!
We are excited to offer you weekly lesson for your kids:
Please open the Parent Guide pdf for your age group and click on the link to watch a video with your kids. The link is at the top right on your Parent Guide.
In addition, there is a memory verse and some daily activities (Daily Activity PDF) for your child to do.
We all know that Parents are wearing many hats at home, so please do what you can according to your schedules.
Click to download *NEW* Activities for Children here
---
YOUTH MINISTRY DEPARTMENT
---
A Ministry where we strive to be spiritually sound and intellectually balanced, while making Jesus the centre of our lives. Youth Director: Min. Robinson
---
GOLDEN J.O.Y. SENIORS
---
If you are 55 years or older and would like to be a part of something great, come and join the Golden Agers! This is an established seniors group helping each other in all areas of life. We enjoy this wonderful life and face the many challenges it offers. We have built a strong sense of support, community, fellowship and outreach to the community at large. We plan social events for our group to enjoy such as prayer breakfasts, summer picnics, concerts, dinners, etc. We take part in planning and moderating one Sunday service per year.
---
POINT MEN MINISTRIES
---
WHAT WE ARE ABOUT

Point man is a military term used to describe the lead position for a patrol. The point man leads the rest of the team around ambushes, snipers and hostile situations. If the point man makes a wrong decision it could cost the rest of the team their lives.
Our goal is to equip men with the tools that are vital to them becoming the God-appointed leader at the point. Men, you are the point man for your family.
Forever Faithful

"Thou therefore, my son, be strong in the grace that is in Christ Jesus. And the things which thou hast heard of me among many witnesses, the same commit thou to faithful men, who shall be able to reach others also" 2 Thim 2:1 - 2

Director, Men's Ministries: Rodney Pringle

MEN'S CONFERENCE 2021
Men's Conference 2021 - Friday June 4th @7pm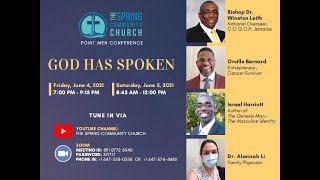 Men's Conference 2021 - Saturday June 5th @8:45am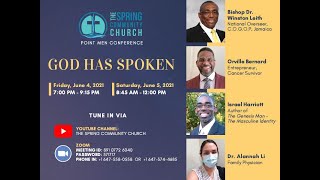 ---
WOMEN ON THE RISE
---
God has always had women in mind. Throughout the scriptures we read many stories of women experiencing singleness, frustration, sickness, influence, old age, grief, poverty, courage, pride, temptation, rejection, rebellion, disappointment, faith, humility, discontentment, jealousy, desperation, encouragement, hospitality, bitterness, deceit, providence... do any of these issues describe your life? At our meetings we empower and inspire our women to be the BEST God has intended them to be regardless of life's circumstances. We offer INTERACTIVEWORKSHOPS with focus driven topics concerning women today such as:
Achieving Excellence
Building Relationships​
Health & Wellness
Life Skills Development
Money Management
Prayer​
Social Skills​
Stewardship
Legal Matters
---
PRAYER & MISSIONS
---
Something big is coming your way. Drop by again soon.
---
COMMUNITY SERVICES/EVENTS
---
Upon Request
Baby Dedication
Wedding Ceremonies & Marriage Encounter Classes
Funerals
Counseling Services
Marriage
Divorce Care
Grief Care
Pastoral Counselling
Youth in Crisis
Financial
& More
Monthly Meetings
Women's Meeting
Leadership Development
Annual Events
Picnic
Summer Camp
Christmas Banquet
Community Christmas Food/Gift Baskets Distribution
Foreign Missions
Other Services
Food Bank
Seniors' Caring Program
Life Skill Seminars conducted by professionals
Home Missions
Weekly Meetings
Sunday Worship Services
Youth Club Basketball Games
Kidz Klub
Prayer Clinic
Bible Study
Prayer Meetings
---
---